Even so the BP oil spill is not local news, it will sooner or later affect us all. The scale of the catastrophic oil spill in the Mexican Gulf is beyond anybody's comprehension.
Live video link from the ROVs monitoring the work 5,200 feet below the ocean.
Enterprise ROV2 (showing the leak between the 19" riser and the top hat cap, the best capture rate with this setup is about 17% at best): Please be aware, these are live streams and may freeze or are unavailable from time to time.
Peter Frei


Posted on 26 May 2010, 00:01 - Category: The Town Common
6 Comments - Edit - Delete


Herb Duggan is back! During tonight's meeting of the Board of Selectmen, acting chief of the Holland Police Department Brian Haughey made a request to have Herb Duggan appointed to serve on the force as part time Police Officer.
Herb Duggan served the HPD before but unfortunately resigned last year to take a full time position serving the Police Department of West Brookfield. The selectboard of West Brookfield appointed Herb Duggan back on June 15, 2009 to serve on the West Brookfield Police Department.
I'm glad you are back in Holland, welcome back Officer Duggan.
Peter Frei



Posted on 13 Jul 2010, 20:42 - Category: The Town Common
3 Comments - Edit - Delete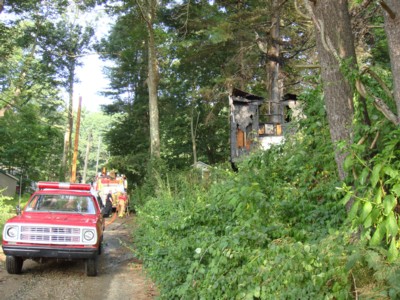 It was not a Friday the 13th, nevertheless it happened on a 13th.
Today, July 13, around 3 a.m. a house on the south end of Valley Drive and north of Chandler Street caught on fire.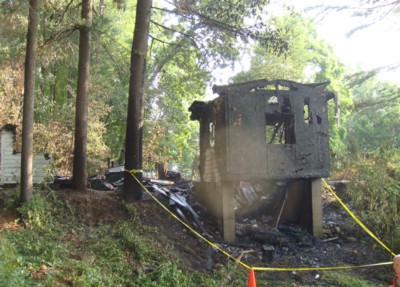 Valley Drive is the short private road to the left if you drive up Davidson Road on the north side of the parking lot to Team Hoyt's Drive-in Restaurant. The fire rescue vehicles shown in the picture above are on Chandler Street.
The fire fighters were only able to prevent the fire from spreading, the house was a total loss.
Peter Frei



Posted on 13 Jul 2010, 18:29 - Category: The Town Common
6 Comments - Edit - Delete
Time to celebrate.....
The Holland Blog went online for the first time at 13:30 hours on Saturday February 14, 2009. By today, the Holland Blog was viewed 250,000 times (page views or hits).
I would like to share one of my favorite YouTube videos with the readers of the Holland Blog to celebrate this special occasion:
The amazing Lyrebird of Australia. This viedeo is not a joke, it is real. There are many other videos on YouTube featuring this amazing bird.
Posted on 9 Jul 2010, 23:08 - Category: The Town Common
Leave a comment - Edit - Delete
I missed the 6th of the month, a reader pointed this out to me today; sorry!
Everybody is invited to go of topic here. Do you have any questions or suggestions? Comment about anything that is amusing you or about anything that is bothering you, but do it in a civilized manner! I will delete obvious lies and offensive comments. To read previous comments under this category, click on "Speak Out Holland" on the left of this blog under the heading "Categories."
Peter Frei
Posted on 8 Jul 2010, 22:36 - Category: Speak Out Holland
17 Comments - Edit - Delete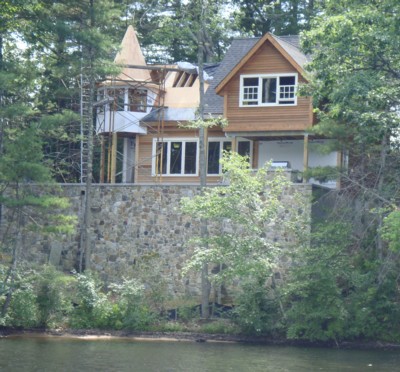 I'm sorry that there are no new posts for so long.
If you cruise up and down the south side of Hamilton Reservoir you may noticed, I'm building an octagonal turret on my castle. I'm in a race against time as I want to close the roof before the next rain. The turret has two unusual features; can you figure out what they are? It is a challenge and it took me much longer than I expected. There are posts in the work and will be posted soon.
Peter Frei
Posted on 8 Jul 2010, 22:34 - Category: The Town Common
6 Comments - Edit - Delete
Changes to the Open Meeting Law Effective July 1, 2010:

New requirements for certifications and other documentation to keep on file. (These requirements will likely pertain to the Town Clerk's Office.)
48 hour notice – still required, but now cannot count Saturdays, Sundays or holidays. (Example: Monday night meeting must be posted before Thursday night.)
Notices must (1) include a list of topics the chair reasonably anticipates will be discussed (i.e., agenda), and (2) be posted in or on a municipal building to be visible to public at all hours. (Having meetings posted on the Town Website does NOT bring officials into compliance. Town Officials must have a posting board attached to the OUTSIDE of Town Hall!)
Emails are expressly included in definition of "deliberation" (must be in open session), but discussion of agendas, scheduling information or reports to be discussed at next meeting is permitted.
Attendance by a quorum at a location will not constitute a "meeting" if it is not the intention of the board/commission to conduct business and no deliberations occur. (For example, attending a conference, social event or a meeting of another municipal board is acceptable, as long as no discussions ensue regarding board/committee issues.)
Minutes must contain more detailed information in addition to "date, place, time and matters discussed," they shall include summaries of matters discussed, and a list of documents used, all decisions made/votes taken.
"Minutes" shall also include "documents and other exhibits, such as photographs, recordings or maps used by the body at an open or executive session and along with the minutes, be part of the official record of the session."
Remote participation (conference call, audio or video conferencing) will likely be allowed by regulation or letter ruling of the Attorney General. (However, a quorum of the body will have to be present and the meeting cannot be chaired via audio or video conferencing).
All persons serving on a public body must receive a copy of the Open Meeting Law and related regulations and must submit receipt of same to the Town Clerk within two weeks of appointment.
Citizens making complaints of Open Meeting Law violations must file written complaints with the governmental body first. The governmental body then submits a reply to the complainant and the Attorney General's Office.
Peter Frei
Read also:
Open and accountable Government.
Record Keeping at the Planning Board.
Posted on 29 Jun 2010, 22:44 - Category: Town Politics
1 Comment - Edit - Delete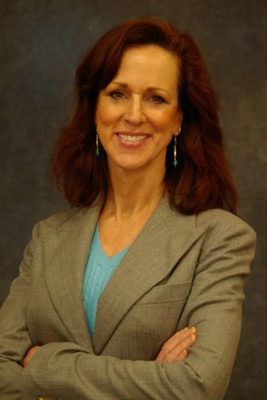 After 15 years in business Sullivan and Wallace is closing its doors. I have already moved on to join Keller Williams who are opening a new office on Rt 131 in Sturbridge. I am excited about this move, it is a great company with a lot to offer, I will now be able to devote all my time doing what I love, working with people to help them make the huge decisions of buying and selling Real Estate.
I can still be reached on the same cell # and email address, I look forward to hearing from you and working with you in the future.
Karen Wallace
KELLER WILLIAMS REALTY
Brimfield. MA 01010
413 531 2181
Posted on 27 Jun 2010, 09:45 - Category: The Town Common
Leave a comment - Edit - Delete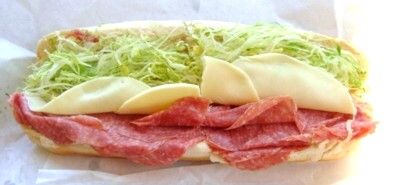 If you never had a grinder from the Holland Market, you are missing out!
The grinders are made fresh according to your likings.
On the top to the right is one of my favorites; Genoa Salami with Provolone cheese, onions, lettuce, pickles and mayonnaise.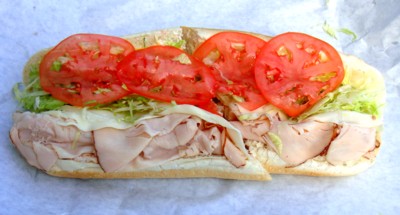 On the bottom to the right is a Turkey grinder with mayonnaise, onions, lettuce, tomato and provolone cheese.
You can create your own grinder for about 50 cents per inch; that's correct! The shown 12 inch grinders are only $6.05 a piece and worth every penny.
Peter Frei
Posted on 22 Jun 2010, 14:44 - Category: The Town Common
2 Comments - Edit - Delete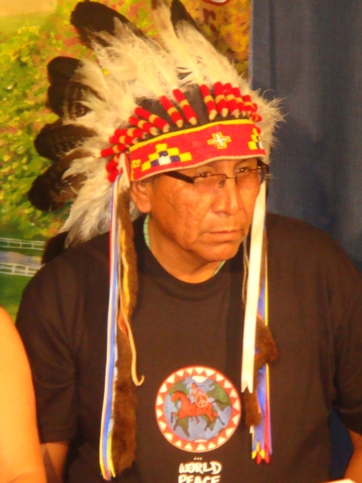 Last night, Chief Arvol Looking Horse, his family, and Troy W. Phillips, state Commissioner for Indian Affairs, were on Dave Worth's Upside Down Show on the Wales Community Channel.
Chief Looking Horse is the Chief of the First Nation, the Lakota Dakota Nakota Oyate, the great Sioux Nation, and the keeper of the Sacred White Buffalo Calf Pipe in the 19th Generation.
To learn more about this remarkable man and where you can meet him during the next two days click here»



Posted on 19 Jun 2010, 11:15 - Category: The Town Common
Leave a comment - Edit - Delete
Both the MA and CT portions of Hamilton Reservoir will be chemically treated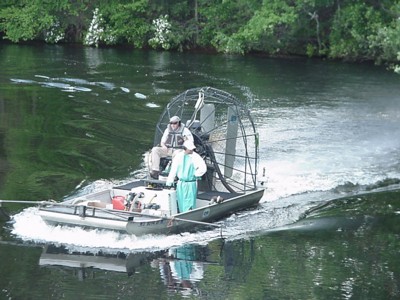 on Thursday, June 17th. The entire lake will be closed to all uses (including, swimming, fishing and boating) on the day of treatment only. Use of the lake water for irrigation, watering livestock (ie; cattle, horses, etc) and drinking/ cooking purposes is prohibited for five days, commencing on the day of treatment. The work is being performed for the
Hamilton Reservoir Association
under contract to
Aquatic Control Technology, Inc.,
of Sutton, MA., and pursuant to permits from MA and CT DEP's and the Holland Conservation Commission.
Posted on 15 Jun 2010, 20:00 - Category: The Town Common
2 Comments - Edit - Delete
Pages: ... [17] [18] [19] [20] [21] [22] [23] [24] [25] [26] [27] [28] [29] [30] [31] [32] ...