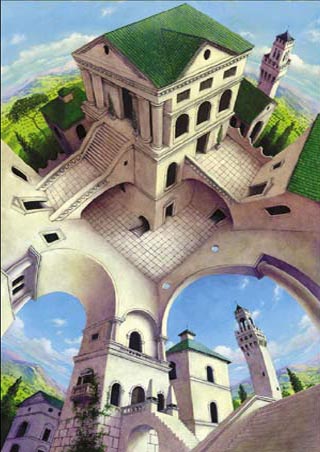 The reason for James Wettlaufer's and Earl Johnson's ability to hold on to their office is because some people STILL believe what they say.
According to Wettaufer's logic, the removal of one of several equal restrictions creates a right to do what is still not allowed by the remaining restrictions. Confused?
My appearance on Dave Worth's Upside Down Show informed some viewers in Wales and Brimfield about the Johnson's scheme to create illegally three building lots and to build three homes without the required frontage. Two of the three planned homes are already built.
Attempts by the Board of Selectmen of Holland to bully Wales officials into censoring the show failed.
Instead of attending a future Show and rebut my accusations, Wettlaufer and Johnson are hiding behind the familiar excuse, "Our attorney's have advised us not to comment.."
However, Wettlaufer could not avoid doing some "Damage Control" and provided Dave Worth with a statement and other documents. The logic he employed is shown in the picture above.
Dave read Wettlaufer's statement at the end of his show and presented Wettlaufer's argument. Read more»


Posted on 21 Feb 2010, 02:54 - Category: Town Politics
4 Comments - Edit - Delete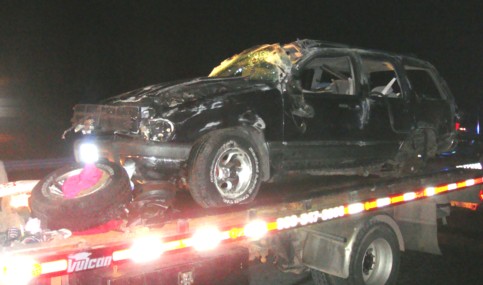 Yesterday, February 19, at approximately 21:30 hours, Troopers assigned to the State Police Barracks in Sturbridge responded to a two-vehicle crash on I84 in Sturbridge.
The two vehicles collided and the SUV rolled over several times. Some passengers got ejected from the SUV shown in the picture.
According to preliminary information from the
State Police Office of Media Relations
, the accident caused one fatality and seven individuals were injured. Two Medflight helicopters landed on I84 to transport a fatally injured 25 year old woman and an eight year old critically injured to the Trauma Center at UMass Memorial in Worcester. The 25 year old pregnant woman died at UMass Memorial.
The SUV was traveling eastbound on I84. The crash happened app. 500 yards northeast of exit 1. Interstate 84 was blocked for about 2 hours. The traffic was detoured off exit 2, over the bridge onto RT 15 south, and back onto I84 at exit 1. The picture shows the SUV on a flatbed tow truck from
Sturbridge Service Center Inc.
Around 23:30hours emergency workers finished the clean-up of I84 and the eastbound lane was reopened. (Click on image to enlarge!)
The State Police Office of Media Relations released a statement, click here, to read the statement!
Peter Frei


Posted on 20 Feb 2010, 00:34 - Category: The Town Common
2 Comments - Edit - Delete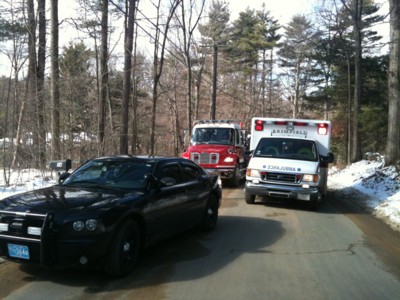 Today, around 11:35 hours, a 33 year old man called 911 and stated that he had just overdosed and would not have much longer to live and that they should hurry..
The Brimfield Ambulance, Holland Fire Department, Holland Police, and State Police were dispatched to the intersection of Leno Road and Kimball Hill Road. The man was walking along Leno Road. Leon Road was blocked for about 10 minutes while acting Chief of Police Brian Haughey and the EMT's were inside the ambulance attending to the man. I left before the State Police arrived on the scene.
Suicide is a public health problem and is preventable, to read the
Massachusetts Strategic Plan For Suicide Prevention Executive Summary
,
click here!
To read the
Massachusetts Strategic Plan For Suicide Prevention
,
click here!
Peter Frei
Posted on 18 Feb 2010, 12:15 - Category: The Town Common
2 Comments - Edit - Delete
THE MEETING OF THE BOARD OF SELECTMEN THAT WAS ORIGINALLY SCHEDULED FOR TUESDAY, FEB. 16TH AT 7pm, WHICH WAS POSTPONED UNTIL FEBRUARY 17TH AT 6:30PM, HAS BEEN POSTPONED AGAIN UNTIL TUESDAY, FEBRUARY 23RD AT 6:30 PM IN THE TOWN HALL. SORRY FOR ANY INCONVENIENCE.
Posted on 17 Feb 2010, 10:21 - Category: Board Of Selectmen
Leave a comment - Edit - Delete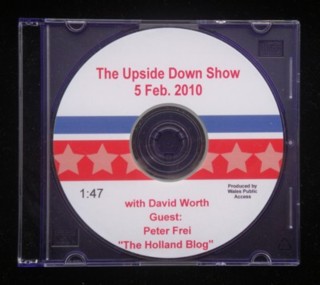 Little do residents of Holland know
how much better the political climate and sense of community in the neighboring town of Wales is.
Wales has a public access channel, Channel 5. Everybody has the right to request airtime on Channel 5, the Public Access Channel of the PEG Channels. Requests are granted on a "first come first serve" basis. The Holland Blog was on Dave Worth's Upside Down Show on February 5, 2010.
Find out how the Board of Selectmen tried to censor the show and why Holland does not have a Public Access Channel, or watch the unedited video of the entire Show, read more»



Posted on 16 Feb 2010, 01:34 - Category: The Town Common
4 Comments - Edit - Delete
Sorry for not putting up this post earlier. On February 2, the selectboard met for the first time this month,
read more»
Posted on 15 Feb 2010, 23:43 - Category: Board Of Selectmen
Leave a comment - Edit - Delete
Video is 15.362MB and runs 3:42 minutes.
Peter Frei
Posted on 14 Feb 2010, 23:34 - Category: The Town Common
6 Comments - Edit - Delete


Earl Johnson broke the good news late yesterday.
However, he fell short again of taking responsibility like a man,
Posted on 13 Feb 2010, 05:09 - Category: Town Politics
9 Comments - Edit - Delete
Different people informed me that members of the Holland Board of Selectmen tried to bully the selectboard of Wales into censoring Dave Worth's Upside Down Show.
I introduced the Holland Blog to the viewers of the Upside Down Show last Friday and talked about
Johnson Landgate
and other dark secrets about members of the Holland selectboard.
Dave's show is repeated three times every day on the Charter cable network in Wales and Brimfield until tonight when Dave will air his new show.
Surprised about the numerous call-ins, Dave Worth announced that he would invite me back to be a guest again soon. Dave's announcement must have scared some officials in Holland.
I will post the show here on the Holland Blog. I need to solve a technical problem first which has to do with installing a streaming server that can handle a video that is 110 minutes long. I intend to post the video in its un-edited entire length.
According to Google Analytics,
Johnson Landgate
is drawing a lot of attention, just yesterdeay the report about
Johnson Landgate
has been viewed 13 times by 12 unique visitors. Every visitor spent an average of 16:34 minutes reading the
report
! (See line number 6 in the Google
report
). The
report
shows partial URL's; for instance on line 70 you will find:
/cgi-bin/pplog.pl?viewDetailed=00054
The complete URL would read like this:
http://www.01521.com/cgi-bin/pplog.pl?viewDetailed=00054
This is the URL for the piece, "Homes built by the Johnson's, illegal!"
Yesterday 172 readers viewed 462 pages and spent a total of 19 hours and 7 minutes reading the Holland Blog.
Click here,
to read part of the extensive
report
Google provides about the traffic to the Holland Blog every day.
Peter Frei
Posted on 12 Feb 2010, 01:34 - Category: The Town Common
3 Comments - Edit - Delete
As every 6th of the month, everybody is invited to go of topic here. Do you have any questions, suggestions? Comment about anything that is amusing you or anything that is bothering you, but do it in a civilized manner! I will delete obvious lies and offensive comments. To read previous comments under this category, click on "Speak Out Holland" on the left of this blog under the heading "Categories."
Peter Frei
Posted on 6 Feb 2010, 00:01 - Category: Speak Out Holland
30 Comments - Edit - Delete
The answer is a clear "YES" if you believe Wettlaufer's logic.
Today, exactly two years ago, February 5, 2008, the voters of Holland came out in droves to overwhelmingly defeat the selectboard's proposal for a tax levy override.
Disappointed Wettlaufer stated in an interview with John Appleton from the Republican:
"You can't get blood out of a stone. We have to make reductions in services."
I have not noticed any reductions in services but witnessed more frivolous litigation initiated by the selectboard. It seems to me that the Board has still too much money; enough to still waste tens of thousands.
After losing the argument that "laMountain is not a farmer" in Housing Court the town recently filed another
lawsuit
against LaMountain with a different twist; they now claim fires on the LaMountain farm would jeopardize public safety.
James LaMountain
may not win a popularity contest in town; under the law however he has equal rights to be protected.
Wettlaufer seem to share Karen Raymond's fear her house could go up in flames and hired Super Lawyer Tani Sapirstein to seek an injunction to enjoin LaMountain from conducting any burns.
Later today, the honorable Cornelius J. Moriarty, Superior Court Judge, will convene for the third time to proceed with the evidentiary hearing in the matter.
Is it a waste of money or is it worth it? Please watch the video and decide for your self:
Selectmen are not all made equal; for some it is never enough and they will push for higher taxes to be able to spend freely. Others spend money wisely, spend it as it would be their own.
On a rare occasion, it had only happened three times before 2008 in the entire state of Massachusetts, a town lowered its levy limit. The Board of Selectmen during Jim Foley's tenure was one of the only three town governments doing so. In 1998, the Board of Selectmen proposed a $200,000 underride that was welcomed by the voters.
To show their gratitude, the voters of Holland recalled Foley twice...
Peter Frei
Read also:
Insanity.
Tax levy limit override vote.
Posted on 5 Feb 2010, 00:01 - Category: Town Politics
9 Comments - Edit - Delete
Pages: ... [23] [24] [25] [26] [27] [28] [29] [30] [31] [32] [33] [34] [35] [36] [37] [38] ...