In case you missed it, the Budweiser Clydesdales had a Christmas Parade this afternoon in Sturbridge;
click here,
to read the "Old Sturbridge Village"
Press Release.
The event was part of the "Twelve Nights of Christmas celebration" organized by the Old Sturbridge Village.
Enjoy the video..
Peter Frei



Posted on 19 Dec 2009, 18:55 - Category: The Town Common
1 Comment - Edit - Delete
We at Northeast Concepts/Huguenot Farms are pleased to announce we have entered into a Lease agreement with GTS Wind Energy, affiliates of
AeroNautica Windppower
, to produce green sustainable wind and solar energy on our two farms located off Mashapaug Road in Holland and Huguenot Road in Oxford.
We are excited to be able to offer not only organic vegetables, beef, pork, eggs and more in the future, but also renewable green energy.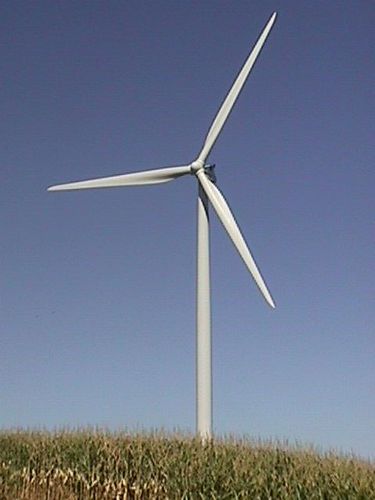 On December 4, 2009, I signed a lease agreement with GTS Wind Energy as a first step to have two windmills built on our hillside property off Mashapaug Road. The agreement is the first one of its kind signed here in Holland and the two
windmills
will produce two mega watts of electric power each, enough to power at least 500 households.
The combination of windmills and grazing cattle and fields with crops at the base of these majestic machines is the future we subscribe to.
At the cost of more then $4,000,000.00 each, the windmills will exceed the property tax increase to the town the proposed truck stop would produce without the negative impact the
Grossi/Wettlaufer project
will have. The two windmills will also not burden any services/departments of the town, such as the Police, Highway Department, and others.
This project will also allow us to preserve our farm in Oxford and expand our agricultural operations here in Holland. We plan to increase the number of cattle in our prize herd of Hereford Cattle in Oxford to bring them to the pastures we are in the process of creating here in Holland. The Town of Holland and its residents will be able to buy electric energy produced by the windmills at a discount.
A
wind Energy appraisal
(4.09MB) was conducted by
AeroNautica Corporation
who provided favorable preliminary data for the project. (Any information
printed in bold/italic is a link you can click on.)
To familiarize yourself with the project, read the extensive
wind Energy appraisal report,
or feel free to contact me if you require any additional information.
Mike LaMountain, at 508 735 7072
Posted on 19 Dec 2009, 12:09 - Category: Town Politics
11 Comments - Edit - Delete
Several town officials and town employees together with DEP officials spent the last two days in Palmer District Court and Hampden Superior Court. Super lawyer Tani Sapirstein was also present in Superior Court, all paid for by the taxpayers of Holland.
The DEP officials had nothing, absolutely nothing to substantiate their allegations of criminal missconduct! Another case against LaMountain was dismissed without LaMountain having to rebut any allegations or calling any of his own witnesses!
Read more»
Posted on 17 Dec 2009, 00:01 - Category: Ongoing And Past Litigation
4 Comments - Edit - Delete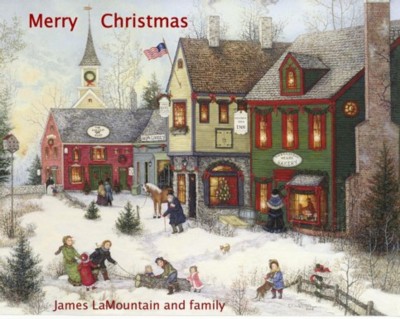 The repeated unjustified lawsuits the LaMountains' face, are not leaving the family and LaMountain unaffected. The default judgment, issued due to the tragic death of a paralegal working for one of LaMountain's attorneys, and the ensuing two $75,000 fines is just the latest injustice the LaMountains' face. The systematic destruction of LaMountain's reputation and the denial of his constitutional right to be a farmer are effectuated by repeated lies, such as, "he is a child molester," and that he is not a farmer and does not pursue farming on the hillside property.
Read more»
Posted on 17 Dec 2009, 07:31 - Category: The Town Common
3 Comments - Edit - Delete
In a
letter
obtained by the Holland Blog, the Board of Selectmen discarded concerns voiced by former member of the Board of selectman, Carolyn Reardon, about excessive firearms purchases by former Police Chief Kevin Gleason.
The
letter
dated May 24, 2005 and signed by selectman James Wettlaufer, clearly shows that early signs of irregularities were ignored and dismissed:
Wettlaufer:
"Some of the purchase orders you
[Carolyn Reardon]
copied were either cancelled prior to delivery or returned."
Mr. Wettlaufer, is this normal procedure? A chief randomly orders firearms just to be cancelled? Some firearms that were ordered and delivered were returned? If there was no need for the delivered firearms, why were they ordered in the first place? This behavior by Gleason did not raise red flags in your mind?
Mr. Wettlaufer, What did you mean with your statement:
"I have looked into the matter with Chief Gleason, and I am with the accounting of the weapons inventory and other equipment."
This statement is confusing, do you agree Mr. Wettlaufer? It seems to me that you were confused yourself but ignored even your own confusion.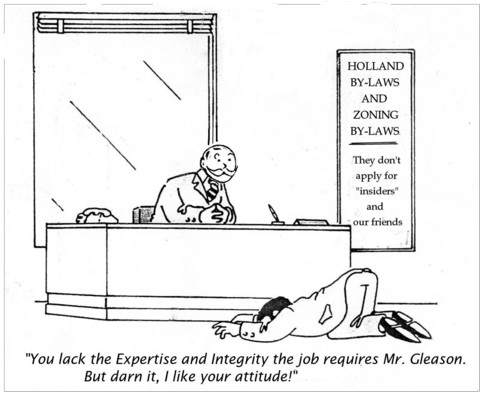 I personally expect more responsibility from individuals who carry the highest office in our community. In my opinion are you, together with Johnson, culpable for the Gleason debacle. This is nothing new; this letter just reaffirms my conclusion.
The word in town is that it was Petersen who finally took action to bring Gleason down. The Word is also that Johnson tried hard to undermine Petersen's efforts and tried to prevent the inevitable. Click here to view the letter signed by Wettlaufer.
Peter Frei


Posted on 12 Dec 2009, 17:31 - Category: Town Politics
10 Comments - Edit - Delete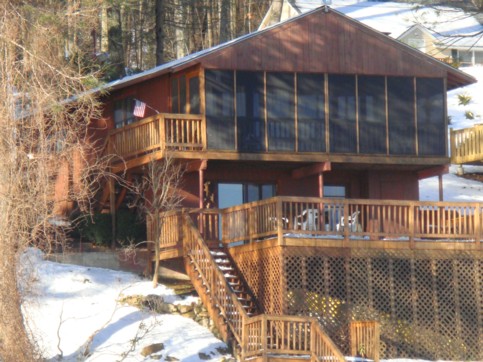 I have some information how one of our assessors keeps his property taxes down; the information might help you too getting a break.
All you need is a few lose tiles,
read more»



Posted on 11 Dec 2009, 22:54 - Category: The Town Common
3 Comments - Edit - Delete
The first meeting this month by the Board of Selectmen was funny at times, but also ugly at other times. Johnson compared someone of our community with Dr.Goebbels, Adolf Hitler's propaganda minister during the second World War,
read more»
Posted on 10 Dec 2009, 21:10 - Category: Board Of Selectmen
2 Comments - Edit - Delete
On the heels of Superior Court Judge Ford's $150,000.00 fine due to a default judgment, LaMountain filed his next lawsuit in Federal Court alleging violations of his civil rights. James Wettlaufer and two DEP officials are named as defendants.
Read more»
Posted on 10 Dec 2009, 00:34 - Category: Ongoing And Past Litigation
2 Comments - Edit - Delete
A total of 177 voters made it to the town hall this past Tuesday. Out of the 177 voters, 115 were Democrats, 61 Republicans, and 1 Libertarian. Holland voters voted as follows:
Democrats: Capuano Michael E. 11 votes; Coakley Martha 72 votes; Khazei Alan 10 votes; Pagliuca Stephen 22 votes.
Republicans: Brown P. Scott 47 votes; Robinson Jack E. 14 votes.
Martha Coakley, Attorney General since her sweeping victory back in 2006 for that position, won the primary for the Democrats with 47 percent of the votes cast by the Democrats. On the Republican site Scott P. Brown, a lawyer and state senator, won the race with 89 percent of the Republican votes.
Peter Frei
Posted on 9 Dec 2009, 18:36 - Category: The Town Common
1 Comment - Edit - Delete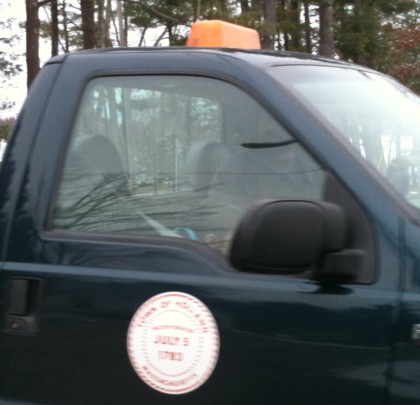 Is our Highway Surveyor, Brian Johnson, now also running a daycare center or just babysitting his children while on the clock for the Highway Department? Read more»

This picture was taken at 11:30 AM on Monday, December 7, 2009.



Posted on 7 Dec 2009, 18:51 - Category: The Town Common
24 Comments - Edit - Delete
The Holland Blog needs your help! Can somebody identify this suspect?
The video surveillance is showing the suspect as he trespasses the LaMountain Farm. The rest of the video will be released once the suspect who is accused of vandalizing farm property is identified. The suspect is probably living on Amber Road or somewhere close to Amber Brook.
Please call James LaMountain at 413 245 4502 or Holland Police at 413 245 0117 with any information.
Peter Frei
Posted on 7 Dec 2009, 00:01 - Category: The Town Common
2 Comments - Edit - Delete
Pages: ... [26] [27] [28] [29] [30] [31] [32] [33] [34] [35] [36] [37] [38] [39] [40] [41] ...