Tuesday. May 4, the selectboard met the first time this month. The three selectmen don't really inform the viewers about the on-goings; the televised meetings are more of a platform abused to misinform voters.
Following Paul Harvey's spirit, the Holland Blog brings you "The Rest of the Story."
Read more»
Posted on 17 May 2010, 13:59 - Category: Board Of Selectmen
Leave a comment - Edit - Delete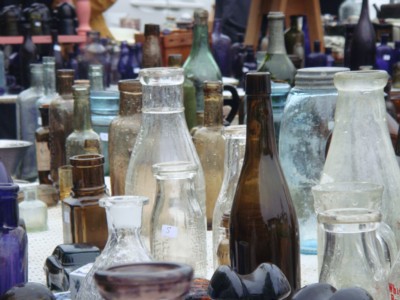 In case you missed it, there is still time to stroll around the fields and make some bargains at Brimfield's Antique Show.
The spectacle will close at 5 p.m. tomorrow,
read more»
Posted on 15 May 2010, 13:44 - Category: The Town Common
Leave a comment - Edit - Delete
John Hindle Goodhall Sr. WEST DENNIS — John Hindle Goodhall Sr. of West Dennis peacefully passed away Feb. 18, 2010, at the age of 84.
Mr. Goodhall was born in Stafford Springs, Conn., and raised in Eastford, Conn.
He was the son of the late Wallace I. Goodhall and Ruth Fenlon Goodhall. John proudly and valiantly served his country by enlisting in the Army. He served in the Italian and French theaters and was injured prior to the Battle of the Bulge, thereby earning his Purple Heart. He had the rank of sergeant when he was discharged. After returning home he met and married his wife Corinne Hulburt. John and Corinne formerly resided in Holland Mass. where he held the position of town selectman, police chief, fire chief and highway superintendent; served as Commander of the local American Legion; owned his own construction business and school bus operation and joined the Masons and Melha Temple in Springfield, Mass. He and his wife owned a seasonal cottage colony in West Dennis where they retired to in 1980.
He lovingly leaves Corinne, his wife of 62 years, his daughter Ruth C. Goodhall of Dennisport, his son John H. Goodhall, Jr and daughter-in-law, Patricia of Grafton, Mass. and grandchildren, Maura of Bridgewater and Eric, of New Bedford. He leaves a sister, brother, many nieces, nephews, grandnieces, grandnephews, cousins and friends. In lieu of flowers, donations can be made to the West Dennis Community Church, P.O. Box 487, W. Dennis, MA 02670.
Burial with military honors will be at the Holland Cemetery, Holland, Massachusetts on the June 12th. It is at 1:00 and then there will be a gathering with refreshments at the Senior Center right after.
Posted with permission of the Goodhall family by Gerry Germaine Hisgen House Bed & Breakfast Holland, MA 01521 HisgenHouse.com
Posted on 15 May 2010, 9:08 - Category: The Town Common
1 Comment - Edit - Delete
I've lived in Holland for my entire childhood till I was 21 years old. I moved permanently back to town in 2005.
Since that time we've lost a lot of our old timers who helped build this town and make it what it's become.
People like Tom Mulrain, our police chief, John Goodhall who ran the Holland Fire Dept. for many years,
Fred Henke who served us as Selectman/Police Officer along with many other positions, my dad, Gerry Germaine, who took care of the Holland School as janitor for many years and more recently Walter Woods who made sure we could always get home in a storm running our Highway Dept., All people who took care of US by taking care of our beloved town . They did it on a shoestring and dedicated countless hours of their own personal time and money and often times with great sacrifice to their own families with no reward.
I moved back to Holland only to find the town immersed in political strife that can only be rivaled by the Hatfield and McCoys.
The upcoming election will prove to be an opportunity for the people of Holland to make a change away from the direction of past politics. We have such a person here in Holland who I believe holds the ideals and dedication of some of his past predecessors who can help implement some much needed changes here in town. I believe Ray Korny who's running for Selectman has the character, honesty, and integrity needed for Holland to go forward to a new beginning. You only have to talk to Ray Korny a few minutes to find out he's articulate, well read, educated, and detail oriented and that he isn't afraid to speak up for what he feels is right or WRONG. You only have to drive by his property or go to his web site for his and his wife Barbara's bed and breakfast (restfulpaws.com) to see how dedicated and detail oriented he is to a project. I believe he will be just as dedicated to the Town of Holland. He has served in a number of capacities for the town already, and he's here in town almost 24 hours a day 7 days a week. As such he is familiar with the interaction of our existing officials.
Holland has a rare opportunity right now for that New Beginning. I hope the people of Holland will throw all their support behind Ray on election day and do what's necessary by voting for him. It's rare that a town has the opportunity and willingness of an individual like Ray Korny to serve it's people. It may be a long time before we have another chance at such a quality individual. Let's not miss this one!.
Gerry Germaine
Hisgen Farm
Hisgen House
Bed & Breakfast
78 Hisgen Road
Holland, MA
Posted on 13 May 2010, 12:19 - Category: Town Politics
1 Comment - Edit - Delete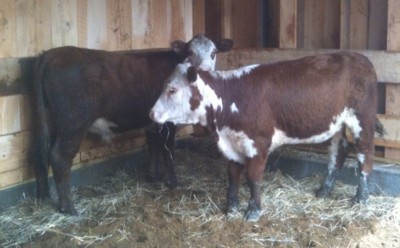 For the first time in more than a century there are once again cattle at the former Blodgett Farm on Mashapaug Road.
Northeast Concepts/ Huguenot Farm recently constructed a cattle barn on their hillside property and today brought two of their Polled Hereford Cattle from their Oxford Farm to the Holland Farm.
We now have a source of prime beef growing here in Holland. Finally..
James P. LaMountain
Posted on 8 May 2010, 15:04 - Category: The Town Common
5 Comments - Edit - Delete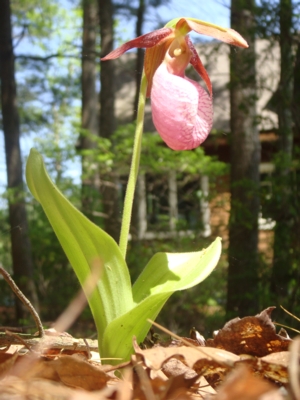 Just 50 feet from my house is this pink lady's slipper, one of two orchid species that grow right next to my house. I took this picture yesterday.
The cypripedium acaule is native to our region but you will not find any on your lawn. Keeping your surrounding s natural produces this wonder of nature's beauty and splendor and keeps the lake clean.
Even if you do not live on a lake, you can help keep it clean. One of the easiest ways is to
use lake-friendly, phosphorus-free fertilizer for your turfgrass.
Hamilton Reservoir and Lake Siog and all other downstream water bodies will appreciate it.
When too much phosphorus enters the lake, algae and weed growth become uncontrollable. Using a lake-friendly, phosphorus-free lawn fertilizer will help protect the lake and will not compromise your lawn's appearance.
Peter Frei
Read also: Lake Siog and the cyanobacteria.


Posted on 8 May 2010, 01:04 - Category: The Town Common
Leave a comment - Edit - Delete
This year's public hearing with the Finance Committee was held on April 20, 2010. Thomas Dubrey, chairman of the Committee, together with Anthony Roman and
Andrew Harhay
presented the draft of the budget for FY2011 and explained how they will keep the town fiscally afloat during these economic hard times. Dubrey had an unexpected clear answer to tax collector Nancy Talbot's request for more funds.
Read more and watch the video»
Posted on 7 May 2010, 00:01 - Category: Town Politics
1 Comment - Edit - Delete
As every 6th of the month, everybody is invited to go of topic here. Do you have any questions or suggestions? Comment about anything that is amusing you or about anything that is bothering you, but do it in a civilized manner! I will delete obvious lies and offensive comments. To read previous comments under this category, click on "Speak Out Holland" on the left of this blog under the heading "Categories."
Peter Frei
Posted on 6 May 2010, 00:01 - Category: Speak Out Holland
8 Comments - Edit - Delete
You may don't know her name but you know her friendly face; she was one of the two ladies at the table where you would check-in and get a paddle at the town caucus and other town meetings. She also gave a helping hand to Kristin LaPlant in the town clerk's office. Janice past away last Sunday May 2, 2010.
Residents living around the lake are familiar with the daily boat rides she took with her long time friend of 50 years, Mary B vandenBerg. The couple lived together on 27 Hamilton Drive.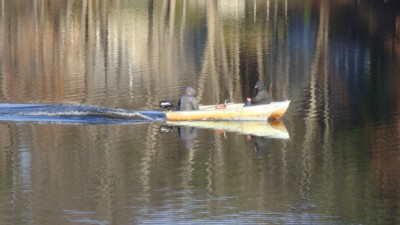 The picture on the right shows the couple all bundled up on their last boat ride for the year 2009 on December 12.
Peter Frei
Janice Vera Swenson
born October 2, 1925 in Maplewood, New Jersey to Robert M. Swenson, Sr. and Vera (Thulander) Swenson, died Sunday (May 2, 2010) at home in Holland, Massachusetts. She is survived by her long time friend of 50 years, Mary B. vandenBerg; her nephew Ralph M. Swenson III, of Burlington, Vermont; her niece, Siri S. Marshall of Minneapolis, Minnesota; and her sister in law Margaret Swenson of Barrington, Rhode Island. Dr. Swenson earned the bachelor of arts degree from Douglass College, the Master's of Social Work from Columbia University School of Social Work, and the Doctor of Philosophy degree from the University of Connecticut. She served as the Executive Director of the Connecticut Valley Council of Girl Scouts, then became Professor of Sociology at Southern Connecticut State University. Following retirement from SCSU she worked seasonally for the U. S. Department of the Treasury in income tax preparation. After moving permanently to Holland, MA, Janice served the community as Registrar of Voters and as a member of the Holland Finance Committee. Jan enjoyed daily boat rides on the Hamilton Reservoir, adventure van travel from the Panama Canal to the North Slope of Alaska and many places in between. She always provided a loving and safe home to rescue dogs, and was renown for her quick wit and snappy lines. She has donated her body for study to the Medical School of Tufts University. Anyone wishing to make a memorial donation in her honor is invited to make a contribution to the charity of the donor's choice. To leave an online condolence,
click here!
Posted on 5 May 2010, 19:12 - Category: The Town Common
3 Comments - Edit - Delete
My aquisations were incorrect, it was not intentional and here is how it happened: The town zoning bylaws clearly restrict political signs to 288 square inches, see paragraph (i), and (d) of subsection 7.11:
7.1 SIGNS
7.11 General Restrictions and Allowances:

Any exterior sign or advertising device hereafter erected or maintained shall, except as expressly provided, conform to the following restrictions:

No sign shall be so located that it will cause danger to traffic by obscuring the view of a public way.
Flashing, blinking, revolving signs and similar displays are not permitted except by special permit by the Board of Appeals.
No sign shall be place on or project over town property or be placed on utility poles which are located on town property.
Nothing in this bylaw shall forbid property owners from erecting on their own property signs not more than two square feet in area containing the words "No Dumping", "No Trespassing", "Private Property", "Beware of Dog", "Blind Driveway" or other customary signs of similar import.
One sign for each family residing on the premises indicating the name of the owner or occupant or pertaining to a permitted accessory use provided, however, that said sign shall not exceed two square feet in area, or twelve feet in the aggregate.
One sign not over nine square feet in area pertaining to permitted buildings, structures and uses of the premises, other than dwellings, and their accessory buildings.
Temporary signs aggregating not over twelve square feet in area pertaining to the sale or lease of the premises on which said signs are located, provided that said signs shall be permitted for a period not exceeding one year.
Directional signs not exceeding two square feet in area pertaining to churches, schools, institutions and other non profit uses, or to the location of businesses, places of accommodation and professional offices.
Political signs shall be allowed as a matter of right, but shall not be greater in either area or in the aggregate, than that allowed for non political signs.
To make sure that no other rules apply to political signs erected on parcels in the business district, I started to read subsection 7.13.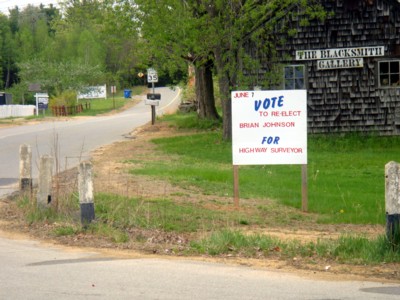 Under paragraph (a), I read "Signs shall pertain only to a use or business conducted on the premises on which they are located and must conform to the height regulations in the appropriate district." This sentence is unambiguous and restricts permitted signs to signs that "
pertain only
to a use or business conducted on the premises on which they are located..." There is nothing that would indicate that there are exceptions, there is no language such as "except," there is also no restriction on the term "signs." It does not read, "business signs..." it just reads "signs shall pertain only to a use or business conducted on the premises on which they are located..." There was no need to read any further, political signs are not allowed at all according to the meaning of paragraph (a) of subsection 7.13.
However, I just read the entire subsection 7.13, and to my surprise political signs are mentioned under paragraph (f). Not only are they allowed, they can measure up to "200 square feet in the aggregate." A political sign could be as large as 10 feet by 20 feet if erected on a parcel in the business district.
The word "aggregate" is a term used to describe the one-dimensional property of a group of items and not the two-dimensional or three-dimensional properties. The word is correctly used to describe the length or height of an item (sign) and not the surface in square foot. I do apoligize for jumping to a conclusion. Anybody familiar with our bylaws will agree with me that our bylaws are a mess and need to be rewritten to avoid ambigiuous interpretations and situations like this one.
Here is subsection 7.13 in its entirity:
7.13 Business Districts

In all business districts the following signs and no other are permitted:

Signs shall pertain only to a use or business conducted on the premises on which they are located and must conform to the height regulations in the appropriate district.
The total surface area of no one exterior sign on any one property shall not exceed one square foot for each linear foot of street frontage; however, in no instance shall the total surface area of all exterior signs combined on one premises be more than 200 square feet in area.
Notwithstanding any other provisions of this bylaw, religious and public institutions shall be permitted to erect signs in the aggregate of not more than fifteen square feet, and only on property belonging to same.
Illuminated signs shall be located twenty five feet or more from a residential district boundary line.
No sign shall extend over public property.
Political signs not exceeding 200 square feet in the aggregate.
Peter Frei
Posted on 18 May 2010, 14:34 - Category: Town Politics
2 Comments - Edit - Delete
Pages: ... [20] [21] [22] [23] [24] [25] [26] [27] [28] [29] [30] [31] [32] [33] [34] [35] ...