You may donít know her name but you know her friendly face; she was one of the two ladies at the table where you would check-in and get a paddle at the town caucus and other town meetings. She also gave a helping hand to Kristin LaPlant in the town clerk's office. Janice past away last Sunday May 2, 2010.
Residents living around the lake are familiar with the daily boat rides she took with her long time friend of 50 years, Mary B vandenBerg. The couple lived together on 27 Hamilton Drive.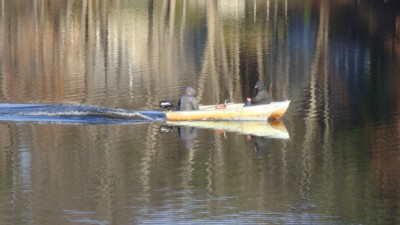 The picture on the right shows the couple all bundled up on their last boat ride for the year 2009 on December 12.
Peter Frei
Janice Vera Swenson
born October 2, 1925 in Maplewood, New Jersey to Robert M. Swenson, Sr. and Vera (Thulander) Swenson, died Sunday (May 2, 2010) at home in Holland, Massachusetts. She is survived by her long time friend of 50 years, Mary B. vandenBerg; her nephew Ralph M. Swenson III, of Burlington, Vermont; her niece, Siri S. Marshall of Minneapolis, Minnesota; and her sister in law Margaret Swenson of Barrington, Rhode Island. Dr. Swenson earned the bachelor of arts degree from Douglass College, the Master's of Social Work from Columbia University School of Social Work, and the Doctor of Philosophy degree from the University of Connecticut. She served as the Executive Director of the Connecticut Valley Council of Girl Scouts, then became Professor of Sociology at Southern Connecticut State University. Following retirement from SCSU she worked seasonally for the U. S. Department of the Treasury in income tax preparation. After moving permanently to Holland, MA, Janice served the community as Registrar of Voters and as a member of the Holland Finance Committee. Jan enjoyed daily boat rides on the Hamilton Reservoir, adventure van travel from the Panama Canal to the North Slope of Alaska and many places in between. She always provided a loving and safe home to rescue dogs, and was renown for her quick wit and snappy lines. She has donated her body for study to the Medical School of Tufts University. Anyone wishing to make a memorial donation in her honor is invited to make a contribution to the charity of the donor's choice. To leave an online condolence,
click here!
Posted on 5 May 2010, 19:12 - Category: The Town Common
Edit - Delete
Comments:
Posted on 4 Sep 2011, 21:47 by RIP
Lake Nazis
May the lake nazis RIP
_________________________________________________________________
Posted on 5 Sep 2011, 18:16 by Good Riddance...!
No Good from Mary
Mary was a person who could not mind her own business. According to the Holy Bible she was an abomination by her lifestyle choice. The world is better off without her.
_________________________________________________________________
Posted on 11 Sep 2011, 20:16 by Captain Smegma
Wow
You people are sick. bet you wouldnt have the guts to say that to her face
_________________________________________________________________
Your Comments are welcomed, add one!
(no email-sign-up or other gimmick necessary, just start blogging away... I do not plant any cookies on your hard drive either!)