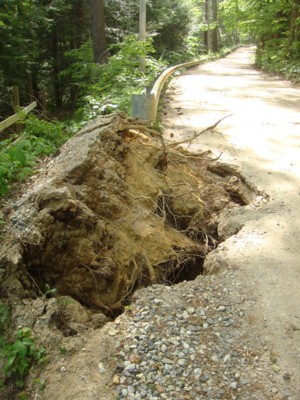 I got a phone call from an upset resident who is living on Maybrook Road. He allegedly called the Highway Department several times in an attempt to report a big hole in the road caused by a tree that got blown over during the recent windy days we had. His phone calls were ignored, allegedly nobody answered the phone and at least one message was left with the request to be called back.
I know that you, Brian Johnson, are only "working" a four day week and that there is nobody at the Highway Department on Friday's.
Brian Johnson founded and incorporated his own Construction Company back on November 18, 2008. Brian Johnson is the President of J&G Construction Inc., J&G stands for Johnson&Gendreau. Scott Gendreau is one of the Highway employees and is listed as the vice president of the Company who's business is officially "GENERAL CARPENTRY AND ROOFING." Kyle Rutkowski, another Higway Department employee is also involved in the cosy company as the director. The Holland Blog reported about Brian's busines in the piece Office or residence?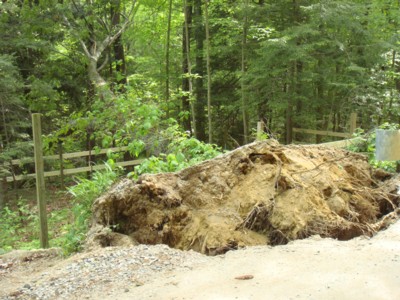 The large hole in the road is not marked or secured and is a potential safety hazard, especially at night. Maybrook Road is very narrow at the spot where the hole is and something needs to be done before somebody gets hurt!
I called the HPD and informed the dispatcher of the situation.
Peter Frei



Posted on 17 May 2010, 16:49 - Category: The Town Common
Edit - Delete
Comments:
Posted on 18 May 2010, 23:07 by Neutral
Need firewood??
With world record speed that fallen tree on Maybrook Road
has been removed! AND, the hole it made has also been
filled in!
Is it because the election is right around the corner and Brian
Johnson is showing us his best Highway Surveyor behavior?
Or.... Did Brian just need to make a little money selling it as
firewood on the side?
The Highway Department "manages" many downed trees over the
course of the year. They cut them on town time using town resources.
What happens to the wood? It should be auctioned with the proceeds
going back to the town. Where do the proceeds go now? Brian's pocket?
Or is it just another job perc (like trash removal) for Brian's fireplace?
_________________________________________________________________
Posted on 19 May 2010, 8:59 by Supervisor in Charge
Class B ? Hoist Engineer
Last night Johnson decided to highlight the fact that he has a class b drivers licence and a hoist engineer ticket.. Well that qualifies him to be an equipment operator and a small truck driver.
It does not qualify him for the position he holds. It qualifies him to be a highway worker or a Backhoe operator not an administrator. The fact that the new tiny sediment basins that were installed by the marina are uphill from the untreated water running into the river from the South proves what a knucklehead Brian really is. The downgrade drainage from Mashapaug is piped directly into the river by the marina without regard for sedimentation from road sand salt or oil and gas spills from vehicles.
Brian was captain of a football team at High School that went almost win-less. His team was an embarrassment to his school. Brian hires his former team mates to work for the town.
Brian also owns land that his Father Earl Johnson fraudulently conveyed from Holland residents to his family.
Brian is not an administrator and turns our road monies from chapter 90 over to the Selectmen's discretionary account. Brian is not a grant writer and has no plans for our road improvement over the next 20 years.
Most towns appoint not elect people to the top highway job. They do a search much like you would for a police chief. They make sure to get college educated people with administrative and engineering skills. Not Holland. Thank God we have a choice to remove this corrupt official from the Job of Highway surveyor. He has been there since 2001..Let our current road conditions speak to his qualifications.
Bumpy rider
_________________________________________________________________
Posted on 19 May 2010, 9:13 by ROFLMFAO !
ROFLMFAO
It is so funny that Nancy Talbot is being challenged for her Job.
What is even funnier is the fact that it was Nancy Talbott who reported the Johnson Land-gate transaction and initiated the investigation.
To shut her up Earl let her do a Questionable conveyance of land to her family. The land was supposed to got to the town but instead ended up in her sons portfolio.
It is funny tho. Lyn Arnold and Nancy Talbot both helped Earl carry out corrupt schemes. Who will Johnson vote for here.?
_________________________________________________________________
Posted on 19 May 2010, 9:32 by Appreciative
Thank You!
Thank you ROFLMFAO, Supervisor in Charge, Neutral and especially Peter Frei for this article and asociated comments. You have provided valuable information that I (& others) was unaware of. And as result, you have helped me decide who to vote for ( & not vote for) in Holland's upcoming election.
Keep this information coming. WE NEED TO KNOW!!!!
_________________________________________________________________
Posted on 19 May 2010, 13:30 by the wonderer
wondering
Does anyone know what licenses the other guy running has? I thought I had heard he was involved in insurance and I was wondering how that applies. At least the incumbent has licenses and experience.
_________________________________________________________________
Posted on 19 May 2010, 16:15 by No Doubt
2 wondering
Dear wonder-er Thank you for pointing out that it is Mr Carling and NOT the incumbent ( Brian Johnson) who has management and administrative training and skills. I too wonder..I wonder How many trade licenses did the incumbent have when he took the job.? Q. How much former town land does Mr Carling hold in his investment portfolio..? A. none. Q. How much x-town land does the Incumbent And his family hold? A. 12 acres. Q. How much of that land was sold to the Johnson clan by the town legally? A. none.
I would say it is about time to separate the management position from the blue collar workers at the highway department. A qualified highway surveyor will write grants that far outweigh his salary.
I look forward to smooth roads and state of the art drainage for Holland after Brian Johnson is sent packing.
_________________________________________________________________
Posted on 19 May 2010, 18:17 by S
Relief is available
Brian Johnson's behavior sown here on this blog through several revealing reports expose Mr. Johnson's Jekyll and Hyde nature.
I remember the report about Brian Johnson's attempt to manipulate two police officers into arresting Mr. Frei for alleged trespassing.
Why should we live with the weight of dishonesty when relief is available to us in form of a man willing to run against one of the Johnson's?
The candidate running against Brian Johnson may not have all the licenses to operate heavy machinery, (I don't know if he does or not), but that can be learned; honest you are or you are not.
_________________________________________________________________
Your Comments are welcomed, add one!
(no email-sign-up or other gimmick necessary, just start blogging away... I do not plant any cookies on your hard drive either!)